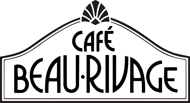 The restaurant
Café Beau-Rivage is a veritable institution in Lausanne-Ouchy – for the past 30 years it has brought together holiday makers, business people in search of a little peace and quiet, regular guests and families. As soon as the first warm days of the year have arrived, the terrace with its trees and view of Lake Geneva is the place to be. But the charming interior is also delightful and wows everyone who loves elegant brasseries and quality service.

The menu at the Café Beau-Rivage varies according to the season, whilst offering its specials such as steak tartare or perch fillets meunière year round.
Beautiful terrace facing the lake.
Relaxed and sophisticated ambience.
Timeless dishes at the Café!
Mythical recipes for a legendary brewery:
Some dishes never age. They travel from kitchen to kitchen, from generation to generation, often with grandma's secrets. Chef Soares takes up the challenge of cooking his traditional recipes to offer you his casseroles to be shared only with family.
Don't wait, they will remain on the menu until March 15!
Information
Open everyday.
Orders are taken from 12pm to 11.00pm.